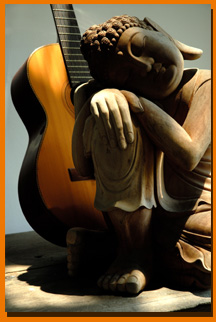 Professional musician since 1983, having collaborated with several prominent musicians in several bandsin the 80's and 90's, on a journey starting from Western Pop, Rock and Jazz to Carnatic Jazz fusion and original Country 'n Eastern music! Proficient Bass player, Vocalist, Acoustic Guitar player and Hand Percussionist. Has collaborated with Performing Artists like Arjun Raina, Maya Rao and Amitesh Grover, for many projects in India and abroad. His intuitive embracing of technology and software in the mid-80's, enabled an ongoing range of creative experiences and interventions. From live playing and multi-channel soundscape design...
He started designing and directing music for cinema/video from 1993 onwards... These include, Monika Baker's film on Homai Vyarawala for BBC4 - Dalda 13 (1995) and Post Midnight Hour : a teleseries on 50 years of the Photograph for DD1(1997), as well as scores of International Corporate videos and Video Shorts till date...
From 1999 onwards, Ghosh has been creating multi-channel soundscape installations to accompany photographic exhibitions, audiovisuals and live performances... Between 2002 and 2007, as a live sound designer-performer collaborating with Maya Rao and Surajit Sarkar, in "a deeper fried jam" and "Heads are meant for walking into..." he has performed in many prestigious Festivals, from The NSD and Other Festivals, to the 25 years of Prithvi, the Festival of India in Berlin and Lille 3000, December 2006. In May 2007 they performed at the Kampnagel, Hamburg. In "Hand over Fist - perspectives on masculinities" which launched the UNIFEM programme in New Delhi and opened the first Delhi Arts Festival, in December 2007, there was a collaboration between Ashim, Maya and Amitesh Grover.
Ashim Ghosh presented an original live multiple media performance in September 2009, entitled New Delly Belly – portraits & memories of New Delhi in 2009. This was a live collaborative show; with original songs, music, multi-screen video and surround sound; between Ashim Ghosh, Deepak Castelino and Amitesh Grover. The songs & music were written by Ashim and Deepak, as an updated re-casting of their original work - Delly Belly, from 1993.
More recently, in collaboration with eminent musician-producer Chintan Kalra, Ashim has produced a range of diverse music; some still in process; including a live performance called "Kaal or Kaalia" and a fun ring tone based on the Hindi Alphabet!
Ashim's  soundscape, "revisiting The Missing Ling", is being featured during Photosphere 2016, at the India Habitat Centre, New Delhi, in December 2016, under the aegis of his new multiple media installation – illume – light in its element.