Post Midnight Hour
celebrating the Indian Photograph:1947-1998
a 3 episode series, commissioned to Ashim Ghosh
by Prasar Bharati, India in 1997,
for the Doordarshan National Network, India,
during the 50 Years of Independence Celebrations
broadcast on the Doordarshan National Network, India in 1998
directed & produced by Ashim Ghosh
anchor: Veena Das
lighting cameraperson: Dilip Varma
script design: Madan Gopal Singh
a documentary series featuring the rare works and insights of Photographers like Homai Vyarawala, T.S. Nagarajan and Debolina Majumdar; for the very first time in a documentary out of India; other than representing many Indian Photographers and diverse Photo Studios
OVERVIEW
In the early nineties, a group of photographers in New Delhi, together and separately, catalysed an intense discussion on photography and the photograph. This resulted in a range of exhibitions showing exciting new photographic work, several seminars and a new expertise that generated insightful writing on the 'chemical visual'. This was also the time when 25 prominent photographers and photojournalists from around India were invited to document the change in Punjab, then recovering from the aftermath of terrorism. Several debates on photography were in progress, ranging from concerns regarding archiving to the copyright of photographic images. Concurrently the decade leading up to the turn of the millennium produced a series of phenomenal socio-cultural-political changes in India, from the opening up of the Indian markets and services to the further spread and funding of terrorism. Added to this, the year 1997 was to mark the fiftieth anniversary of Indian independence...
It is in this time of transformation that Post Midnight Hour, a 3-episode television series on fifty years of the photograph was commissioned in 1997 by Prasar Bharati to Ashim Ghosh, contemporary photographer and video producer & director. Instead of doing the standard Delhi-Bombay stint, Ghosh took this as an opportunity to collect diversely representative photographic documents from across India, in an effort to celebrate the rich diversity of Indian cultures and photographic practice. Photographs created primarily between 1947 and 1998 were sourced and collected from 35 locations across 11 Indian states, under the aegis of Project Unearth, funded and conducted by Ghosh driving 9948kms across India in his little 800cc Maruti Suzuki. This encompassed works from 81 sources, including photographers, photo studios and photo collectors. Among these was the historic photojournalistic documentation of the lead up to independence and after by Homai Vyarawala, early pictorial salon imagery by J.N. Unwala, documentation of the feminist movement in India by Sheeba Chhachhi and studio portraiture from contemporary tribal villages in Andhra Pradesh & Uttar Pradesh - a mini-archive of visual socio-anthropology revealing insights into the birth and journey of a nation. In addition, Ghosh conducted 33 video interviews across New Delhi, Mumbai, Kolkata, Chennai, Hyderabad, Bangalore and Vaddodara, with prominent photographers of diverse practice, studio owners and expert/cultural commentators - totaling 24 hours of archival Beta SP footage directed by Ghosh and shot by cinematographer Dilip Varma. This unique documentary series featured the rare works and insights of Photographers like Homai Vyarawala, T.S. Nagarajan and Debolina Majumdar; for the very first time out of India; other than representing many prominent Indian Photographers and diverse Photo Studios from across India.
This material was woven by Ghosh and his team, into three 25-minute episodes of Post Midnight Hour, each a historical document that attempted to represent diverse socio-cultural perspectives on the photograph in India from independence till 50 years after. The series were anchored by eminent sociologist Veena Das, and scripted by prominent cultural commentator and Sufi singer, Madan Gopal Singh.
The Photographs were duly returned to the owners/copyright holders after the series was ready. A body of diverse work collected by Ashim Ghosh, primarily from photo studios across India; for which permission to archive was received; and the video footage produced by Ghosh during the series, was the basis of the creation of The CASA Documentation Centre, New Delhi, later in 1999. Due to the Centre's dearth of resources, the maintenance of Ashim Ghosh's archive of studio photographs and the archival footage of Post Midnight Hour produced & directed by him, continues to be funded by Ashim Ghosh himself, and stored and maintained in his own private residences in New Delhi, ever since 1997 till date.
Post Midnight Hour was broadcast on Doordarshan National Network in 1998 as part of the '50 years of Independence' celebrations in India.
Post Midnight Hour
celebrating the Indian Photograph:1947-1998
contact : oddiovisionary(AT)gmail.com
ALL RIGHTS RESERVED
Ashim Ghosh, New Delhi
click on the images below to watch
the Post Midnight Hour episodes on youtube
post midnight hour: Episode#1A - first half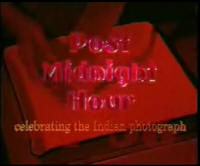 post midnight hour: Episode#1B - latter half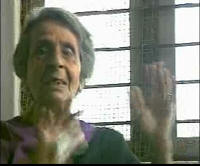 post midnight hour: Episode#2A - first half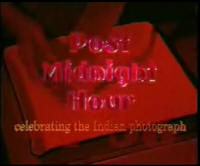 post midnight hour: Episode#2B - latter half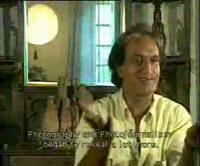 post midnight hour: Episode#3A - first half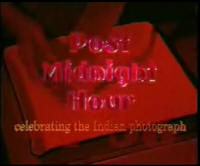 post midnight hour: Episode#3B - latter half