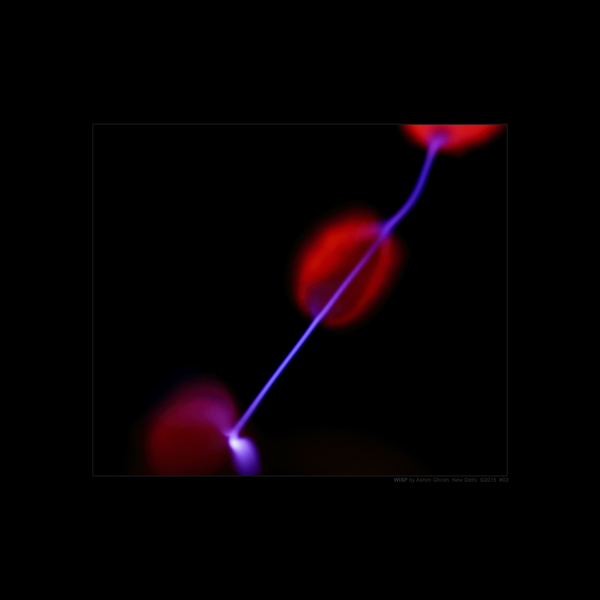 Ashim Ghosh's new photographic work, is an auto-documentation of a performance with light and body.
Saturated with the tumultuous mushrooming of predictable "photographic" images; especially after the entry of smart phone cameras; Ghosh had stopped taking "photographs" by 2009. By 2015; when the urge to create new photographic work could no longer be repressed; Ghosh inter-twined his understanding of light & photography with his performance experience, to "write" a totally new body of photographic work.
Ghosh performed privately for his camera in his studio, using digital light sources and his body. The images were then processed using classic digital darkroom techniques of cropping, and controlling exposure, saturation, levels & sharpness. No layering, air brushing, colour filtering or Photoshopping. The resulting photographic images present a refreshing new lyrical play between light and body - beautiful dichromatic blue steaks and red forms, fragile and transient yet stark and powerful, photographed in evocative performance... photo-graphy. a write with light... wisp
WISP was featured for the first time during Photosphere 2016, at the Visual Arts Gallery, India Habitat Centre, New Delhi, in December 2016, when Ghosh was invited to show his new multiple media installation – illume – light in its element, representing light as the sixth element.
performance & images by Ashim Ghosh, shot on a Canon 60D + Canon EF 100mm f2.8 Macro lens, and processed in the Canon Digital Photo Software.
ALL RIGHTS RESERVED & REGISTERED ©2015 ashim.ghosh(at)sumyamtra.com