Anything can happen in the presence of the black divine!
In a world ruled by powerful white men who decide the time and place for both war and peace, it is perhaps only our homes that are our final defences. A space where we can hope to find respite from our struggles with the world... Where we try to keep our black Gods alive
in whatever shape and form they exist for us...
housing the black divine invites you into the homes, hearts and art of Arjun Raina, Monica Singh and Ashim Ghosh. Three creative artists/performers who will recast the Nature Morte Art Gallery of New Delhi, into a space of labour and love. For three entire workdays, from 11am to 9pm, they present classical dance, theatre, story telling, films, photo exhibits, video installations and multi-channel soundscapes. Arjun, Monica and Ashim use decades of skill and craft to share these three days, fully, beautifully and magically. With Ashish Paliwal, the official house guide always at hand to assist, they welcome each one of you, their audience, as their very precious guests, into this
very special space. This, their
House of the Black Divine...
housing the black divine
12-14 Aug 2005, Nature Morte, New Delhi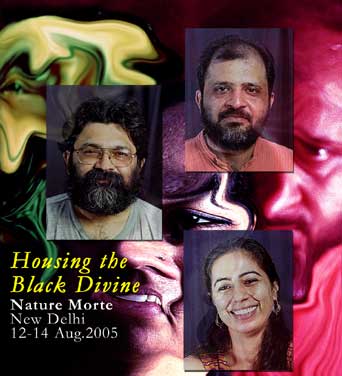 The Black Divine Wall (above left)
retrospective of Ghosh's photographic perspectives on masculinity
other contributions to the House by Ashim Ghosh
click each link for more details
The S K Project (solo performance)
perspectives on masculinity with original live music and imagery
Home Street Home (other than as performed in The SK Project)
installation of image & text plaques with projected DVD
2 DVDs on pedestalised Monitors against a hand painted background
installation with video projected on a bed on the floor
each one's right to read and write : digital image installation